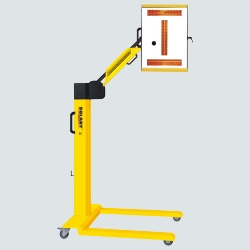 -IR3 IR3S IR3ST-
Features
•   Digital displays shows remaining cure time.
• Switch: CE/UL certified, high quality and stable performance.
•   Pre-heat and full baking function to achieve gradual temperature increase.
•   Key electronic components made in USA/Japan or with CE/UL certification.
•   Memory function: can set and store 4 frequently used programs making it convenient.
•   Lamp cassette assembly can be rotated and swivels to achieve best drying position. Convenient height
  adjustment with two gas struts.
•   Ideal for polyurethane paint (double components paint), single component paint and water based paint.
•   Powerful penetration directly into the inner paint layer; completely drying two component paints within
  15 minutes and polyester putty within 5 minutes.
• Ultrasonic distance sensor equip with thermo-compensation, at -40°C~ +85°C have super precision;
  temperature sensor has red laser for take aim.
• IR3S  IR4S  IR6S  IR8S: With ultrasonic distance sensor.
• IR3ST  IR4ST  IR6ST  IR8ST: With ultrasonic distance sensor & temperature control. 
Technical Data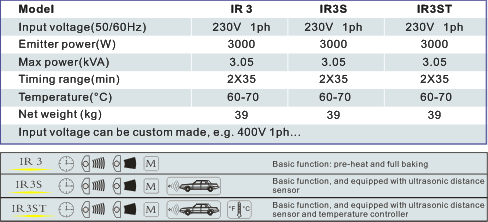 Control panel