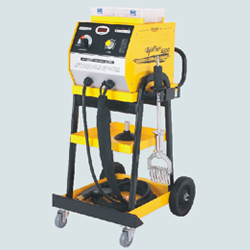 -4200-
Features
Suitable for welding washers, special washers, wriggle wire, rivets, sheet patching,
carbon rod heating and shrinking.
● With sucker to extract the big dented area without damaging the paint surface.
● Copper transformer for high current output and high duty cycle.
● With input voltage meter for adjustment reference.
● With star washer for welding and pulling directly.
● Automatically sets timing status.
Accessories

Technical Data