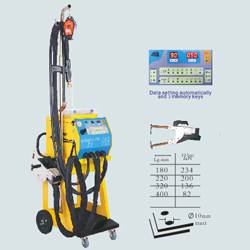 -X9-
Features
Suitable for welding washers, special washers, wriggle wire, rivets, sheet patching, carbon rod
heating and shrinking.
● Microprocessor optimizes the welding parameters.
● Synergetic adjustments; automatically sets the welding parameters according to the selected tool
and the thickness of the work piece.
● Adjustable time and welding current. All customized settings made during the working programs
are stored until the power is switched off.
● Equipped with suction slide hammer set for repairs of large dent areas without damaging the
paint work.
● Self checks when power is turned on with functions indicator lights.
● 2 LED panels display for welding current and welding time.
● Double piston cylinder for increased clamp force.
● 3 memory buttons to store customized settings.
● Copper transformer for heavy duty load.
● Double sided spot welding.
● Overheat protection.
Accessories

Technical Data