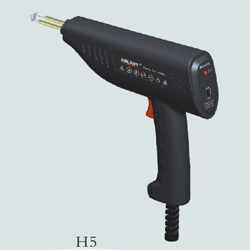 -H5-
Features
● Thanks for inverter technology, strong ability to adapt unstable input power and save energy.
● With high light LED for illumination for working range.
● Each staple with a pre-cut point, no need side cutters.
● With convenient and strong storage case.
● Heating time less than10 seconds.
● Suitable for various plastic types.
● Two directions for staple insert.
● Two different heating speeds.
● Light and easy to operate.
● Six sizes of staplers.
Accessories

Technical Data

Which part to use