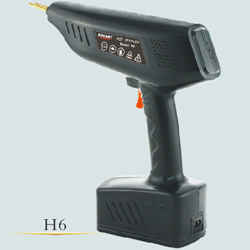 -H6-
Features
●100,000 times recharging life design, no need to replace inside battery in a few years!
● Rechargeable design,with an innovative technology for quick charging,the charging
time is only one minute from empty to full!
● Good design for charging cord reserved, it will never getlost.
● With high light LED for illumination in working range.
● One full charge can work on 40 staples.
● Staple heating time less than10 seconds.
● Suitable for various plastic types.
● Two directions for staple insert.
● With dump energy indication.
● Can be used as a torch.
● Six types of staplers.
Accessories

Technical Data

Which part to use