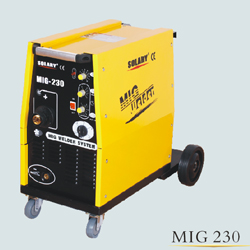 -MIG 230-
Features
Suitable for metal industries, furniture making, construction, vehicle manufacturing and
automobile maintenance.
● Transformer is made up of three vertical winding coils with good heat dissipation and power.
● Equipped with PWM system; its high powered and smooth feeding for welding rods thereby
saves time and this helps to relieve fatigue on the operators hands and wrists.
● Equipped with a double-route time regulator with high accuracy.
● Integrated circuit with a function module.
● Double wheel wire feeder.
● Excellent seam reshaping.
● Deep welding penetration.
● Enhanced productivity.
● Minimal fuse splash.
● Binzel welding gun.
● Stable arc starter.
● Tapped circuit.
● Highly efficient.
Accessories

Technical Data