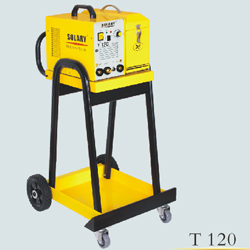 -T120 T160-
Features
Suitable for welding for metal industries such as furniture making, construction, renovations
and home remodeling, vehicle manufacturing and automobile maintenance.
● Cutting mouth is smoother than that done by traditional transformer counterparts.
● Main unit is removable and portable.
● Reduces workload remarkably.
● 3 in 1 TIG for arc and cutting.
● Compact and convenient.
● Inverter technology.
● Highly efficient.
Accessories

Technical Data