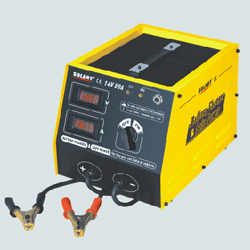 -14V50A-
Features
14V50A is designed to provide consistent voltage and current output. Stable and controlled
output of voltage and current are essential to protect electronic equipment such as ABS,
electronic air bags and important input of data in high end cars like AUDI, MERCEDES
BENZ, & BMW. This feature is not found in ordinary battery chargers.
● When battery is fully charged, automatic switch over to trickle mode.
●  Auto protection against short circuit, overload & overheat.
●  It is used worldwide in the auto market for luxurious cars.
●  Wide range of input voltage from 85-264V or 120-360V.
●  Polarity inversion safeguard.
●  Portable and powerful.
●  With cooling fan.
Technical Data