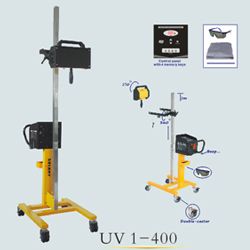 -UV1-400-
Features
The UV paint curing lamp works through special light band to make UV paint coating rapid polymerization,
cross-linking reaction, so that it can quickly make paint cure in about dozens seconds. And it can form one kinds
of high density paint film, which the performance is far superior to the traditional PU paint coating.
The lamp special suits car body shops.
1. Emitter head position can be adjusted.
2.With a count down timer which can shut off automatically.
3.Emitter head can be hand-held or fixed , it can rotate 270 degree directions.
4. With default time setting and customized time setting, 4 customized adjustable memory
keys,convenient for user adjust it when it's needed.
5. Using the long life UV tube from UK, and Phillips electronic parts.
6. With the double-rolls caster design, it's convenient for moving easily in the spay booth.
7. A various of security protection design.

Technical Data