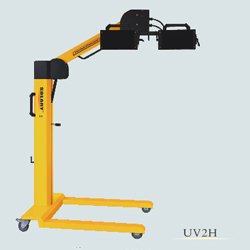 -UV2H-
Features
The UV paint curing lamp works through special light band to make UV paint coating rapid polymerization,
cross-linking reaction, so that it can quickly make paint cure in about dozens seconds. And it can form one kinds
of high density paint film, which the performance is far superior to the traditional PU paint coating.
The lamp special suits car body shops.
1.Modern and attractive design.
2.Advance paint curing technology.
3.With a count down timer which can shut off automatically.
4.Lamp cassette can assemble when it's needed.
5.Switch: CE/UL certified, high quality and stable performance.
6.Using the long life UV tube to rotate and swivel to achieve best drying position. Convenient height
adjustment with gas struts.
7. With default time setting and ustomized time setting, 4 customized adjustable memory keys, convenient
for user adjust ite from UK, and Phillips electronic parts.
8.Key electronic components made in USA/Japan or with CE/UL certification.
9.Individual adjustable emitter cassettes with long life emitters with up to 2000 hours.
10.New control panel with ergonomic push buttons with life span 10 times that of mechanical knobs.
11.UV4S with ultrasonic distance sensor equipped with thermo-compensation, at -40℃ ~ +85℃ have super
precision;
12.A various of security protection design.

Technical Data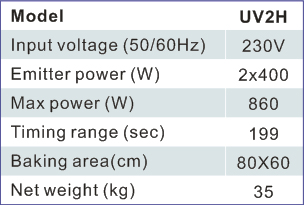 Control panel