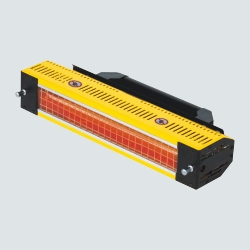 -IR 1-

•Powerful penetration directly into the inner layer of paint. Completely dries two-pack paints within 15 minutes and polyester putty in 5 minutes.
•Portable design; convenient for curing feather edges, small spots or drying in hard to reach areas. Switch beside the handle for convenient starting and shutting down.
•Can be used to soften trim mouldings when replacing windscreens or removing strips. Heat up aluminum to repair aluminum-body vehicles, pull a dent, or remove ornaments and adhesives.
•Short wave infrared emitter modules with high light emitting efficiency.
•Safe handle to avoid high temperature.