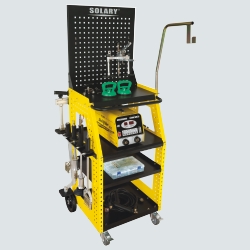 -DS2A3D/DS2A3DS/DS2V3-

DS2 is special design for steel car body dent pulling.
Functions: washer welding, carbon rod heating, partial heating and tempering for car body.
● ● ●
● Microprocessor controlled, the multi-function control panel set the spot welding parameters automatically. And also allow to adjust the parameters manually.
● When work on car top and narrow interior space, the main unit is separable from the trolley.
● Thanks for hight precision MCU controlled, no burn on welding point.
● For operation convenient, with automatic detection welding.
● 3 or 4 memory buttons to store customized settings.
● With practical lever puller and quick puller.
● 3 flexible earth connectings.
● Inner fan for heat dissipation.
● Copper transformer.