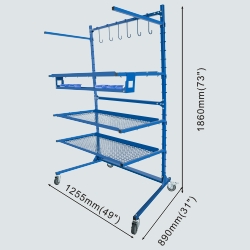 -PS302-

The shelf parts Cart is a parts management system. It folds up for easy storage and minimal floor space usage. The tight mesh shelves keep small items from falling through. The shelves are 21' in width and 38' in length with tube framing outlining the shelf for added strength and to keep parts from falling off the shelf. Special design post to supply strong suspension for shelves. For longevity and sturdier than most on the market.

1.Folds up for easy storage and minimal floor space needed.
2.Mesh shelves that are 21' in depth and 38' in length.
3.Open design for easy loading & unloading.
4.Load parts directly from the delivery truck.
5.Built with steel tube construction.
6.Dismantled & compact package.
7.Shelf position adjust in seconds.
8.Durable powder coat finish.
9.Fast and easy to assemble.
10.With brake casters.