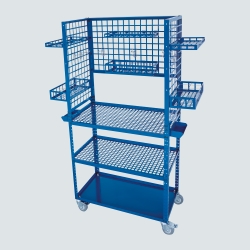 -PS306-

Good for control and moving in the body shop with the materials and details, helps to increase efficiency and reduce waste.

1. Enough space for workers putting different kinds of parts in the workshop, save time and manpower.
2. Strong casters with brake to make sure the cart in good balance, moving stable and reliable.
3. Easy to store parts and material in clear view.
4. Moves the carts to anywhere efficiently.
5. Dismantled & compact package.
6. Shelves position are adjustable.
7. Durable powder coat finish.