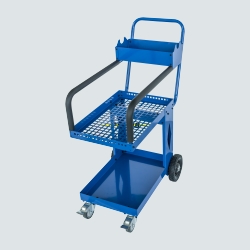 -PS308-

Good for moving in the body shop carry with the parts ,tools, repairing materials ,ect, it helps to increase efficiency and lower labor intensity.

1.Durable power-coat finish.
2.Dismantled & compact package.
3.With 4' casters and 7' industrial wheels.
4.With no hole designed ,the bottom shelf can store small parts and screws.
5.Upper shelf with deep suspend designed, this helps to place or take out parts from bottom shelf easily.
6.Upper shelf with punching design, for can see the parts in the bottom shelf, and convenient for the screw driver hang in the shelf.
7.With a special designed tray, can store the tools like : adhesive ,paints, also can hand the spay gun , grinder , polisher by the tray side plate .
8.With 2 pipes in the upper shelf,
A. Can store and move the big size parts easily, like bumper ,SUV foot plate, exhaust pipe unit, front fenders, fuel tank ect;
B. The pipe cover by EVA pipe, the trolley with two elastic ropes, providing the parts strong protection and fixing.