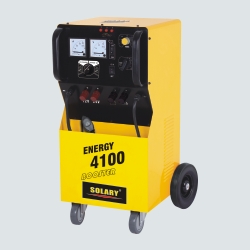 -4100-

Battery charger is suitable for all kinds of motorcycles and ships that use gas or diesel. Can also use as a starter for cars, vans, tractors, light and heavy trucks.
● ● ●
•To protect the equipments inside the vehicle avoid getting burnt by the long booting in high voltage. Special made with wired remote controller, only supply power in booting.
•With the special wiring design, can supply the machine with maximum booting current and avoid over charging to the batteries and damaging the equipments inside.
•3 phase input, supply the strong output and booting power.
•Can charge more than 1 battery at the same time.
•Low input resistance and high output current.
•Displays charge and start currents.
•2 functions in 1 (charge & start).
•Superior longer lasting switch.
•Automatic thermal protection.
•Polarity inversion safeguard.
•Wide adjustable time range.
•With lacking phase alarm.